This month's LOTRO Store Staff Picks has my mind boggled. The theme is "5 Most Critical Items to Bring to a Raid" and I have to say, it had Elb and I laughing our heads off. I'm sorry, I'm sure a lot of thought went into the original article, but I just don't see most of these items as being very useful in the context of raiding. Let me tell you why, and then I can give you my picks instead.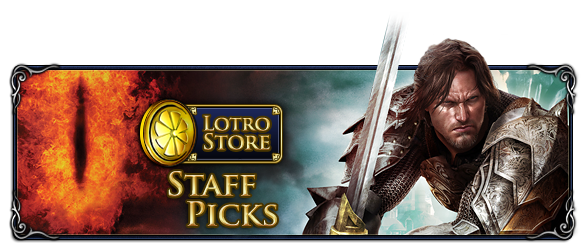 The Staff Picks:
---

Bard Services 1-hour
Ever come to a raid with the wrong traits on? I have. It's really embarassing. Sometimes, you just forget.  It happens to the best of us. However, instead of taking the "Long Walk of Shame" back to the Bard consider grabbing this instead. This way you can continue onwards with the right traits without causing a delay.
Store Location: Goods & Services > Town Services > NPC Services
75
KETANI'S RECOMMENDATION: This isn't exactly a bad pick, but it's certainly not a "critical" item to use every time you raid. Many times a group will take a while getting started (likely checking GLFF for another raid member), and that's the time to be checking your traits. Ask the raid leader for advice if you have to. But don't waste your points on an item that will expire in an hour–you know, right around the time when you're likely to need to re-trait to try a new strategy or different wing of a raid.
Note: This item disappears from your inventory 1 hour after you buy it.
---

Travel Maps
Getting there is half the fun, right? Wrong. You should be on-time, or early, if you're going to a raid. Don't hold up everyone by being late. That said, if you need to move across the world rapidly, a Travel Map is a great choice.
Store Location: Travel & Housing >Maps & Skills > Travel Maps
50
KETANI'S RECOMMENDATION: No. Just no. Instance Join will get you into the instance, so you should not EVER need to trek your way to a raid these days. If you need to leave the raid to visit the bard or something, just leave the instance by selecting that option from the drop down menu found by right clicking your character's portrait on the vitals bar. Of you can use your map home. (Just try not to abandon your group in the middle of a boss fight, even though those maps do work in combat now…)
---

Remove Dread
No one likes to wipe, but it's a fact of raiding life. Wiping excessively though may slow things down thanks to the addition of dread. Keep one of these tomes on hand and wipe the shadow of anxiety off of your face before it affects everyone else.
Store Location: Buffs & Boosts >Dread & Defeat
100-450
KETANI'S RECOMMENDATION: Minstrels have a skill that can remove dread. It's called Chorus of Restoration and it will remove dread from your entire group. No need to spend Turbine Points, just ask one of the minstrels in the group to help you out! Another alternative to the store dread removal is to use your Destiny Points to purchase the dread removal perk (VIP only).
---

Vault Upgrades
While not entirely specific to raiding, you can never say no to more storage.  You always need to put your epic raid loot somewhere!
Store Location: Character > Vault Storage
195-995
KETANI'S RECOMMENDATION: I fully endorse the purchasing of more storage. My raiding main has purchased as much as she can get. However, it has nothing to do with raiding, but more with the fact that I also do a lot of crafting on that toon. Buy more storage if you need space to keep your stuff, but not because you think it'll make you a better raider.
---

Repair & Sell Services 1-hour
Finally, I'm electing this item almost exclusively for the repair aspect.  Dying means gear damage and you shouldn't be running around in a raid with broken equipment.  Of course, you should have fully repaired before even beginning the raid, but this item is certainly great if you've suffered a few wipes, or want to get some trash out of your inventory.
Store Location: Goods & Services > Town Services > NPC Services
75
KETANI'S RECOMMENDATION: I've used this from time to time while raiding. It can be helpful, but more often than not, if your raid has wiped often enough that your gear is starting to break, chances are you aren't the only one in that situation. Typically this will lead to the raid taking a break between attempts at killing that one pesky boss, and then everyone can go take a moment to visit a vendor.
Note: This item disappears from your inventory 1 hour after you buy it.
Ketani's Picks:
Bear in mind, while I'd say that these are more critical than the LOTRO Staff Picks suggestions, I wouldn't say that you absolutely need these items to be successful in a raid. I'm just saying that they'd be a lot more useful than maps and store dread removal…
---


Morale and Power Potions
Store Location > Buffs & Boosts > Potions > Morale/Power
95-330 (Prices based on the level 75 potions. I don't know if the prices are different at other levels/tiers.)
KETANI'S RECOMMENDATION: These potions are nice because they use a different cooldown than the crafted versions, and because they have an "over time" aspect to them. They will give you an initial burst of power or morale and then weaker pulses of more for a few seconds afterward. It can be helpful in situations where you'll be taking damage over time to have a potion that will replenish your morale (or power) over time, too.
These potions have a 20 second cooldown (compared to the 2 minute cooldown on a crafted potions) and the heal over time effect lasts 10 seconds.
---

5% Attack Damage
Store Location: Buffs & Boosts > Combat > Damage
9-195 or
3,000-5,000 Destiny Points (VIP only)
KETANI'S RECOMMENDATION: This buff will let you do an extra 5% ranged, melee or tactical damage for between 60 and 90 minutes. The buff will not be cleared upon defeat. These are especially good for those boss fights that are DPS races where you need to kill the boss in a certain time limit.
---

Tome of Defence
Store Location: Buffs & Boosts > Combat > Armour & Defence
75
KETANI'S RECOMMENDATION: This buff reduces the amount of damage you take from ranged, melee or tactical sources by 5%. A very nice buff to have in your arsenal, especially if you're feeling that your character is a little week for the encounter you're facing. It's a benefit to your whole group in that the less damage taken by you is less healing your healers need to do, and therefore more effort that can be redirected to keeping everyone alive.
The tome lasts 90 minutes and the buff will not go away upon defeat.
---

Tactical and Physical Mitigation Tomes
Store Location: Buffs & Boosts > Combat > Armour & Defence
50 or
4,500 Destiny Points (VIP only)
KETANI'S RECOMMENDATION: These tomes will give you +450 mitigation to either Tactical or Physical damage types (depending on which you buy). At this price you'll get 5 of these tomes with 90 minutes duration each and as with other similar tomes, the buff persists through defeat.
---

Item Wear Reduction Tome
Store Location: Buffs & Boosts > Combat >Item Durability
40-75 or
  2,250-7,500 Destiny Points (VIP only)
KETANI'S RECOMMENDATION: These tomes will protect your armour and other equipment from being damaged by combat and defeat. They will greatly reduce (and in some cases, completely prevent) a large repair bill after lots of raid wipes. I like to use these when going up against a boss I'm not very familiar with, because that usually means lots of death, and with heavy armour on, that usually means repair bills that are close to a gold or more. These tomes won't help you fight any better, but they do save time needing to repair. 40 TP will get you a single 60 minute tome and 75 TP will give you five 60 minute tomes. By preventing damage for longer periods of time, they're more effective in my opinion than the previously mentioned Repair and Sell Services that expires after it's been in your bag for an hour.
---
As I mentioned earlier, these store items are certainly not necessary in order to raid successfully, but they can help a lot. I don't use all of these every time I raid, but I will use many of these when learning a new part of a tier 2 raid. I know a lot of people don't like the store potions because they feel they take business away from in-game crafters, but for myself, I use both types of pots. If a situation is dire enough to need a store pot, I've likely already got a crafted pot on cool-down. I also keep my local crafters busy with my need for food, defence and offence scrolls, and hope tokens.