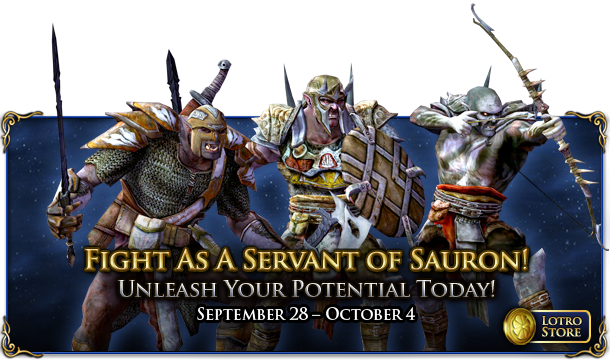 The following items are on sale from September 28 – October 4th. Below you will find the sale listings as well as our recommendation on purchasing.
BOGO Coupon Offer
This is one of the new items added to the store with Update 7.2 This is an experience boost catch-all giving twice the experience on monster kills, quest completions and legendary items. Not at all a bad deal for those looking to get a little boost to a character trying to get a few more levels before Rohan.
This is not a free item. You must buy 2 and you will get the second one free (so basically 50% off when you buy 2)
Use Coupon Code: XP199G
Limited Release: Helegrod Cosmetic Gear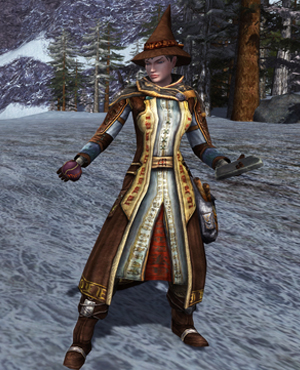 Just a reminder that you can still pick up Helegrod raid cosmetic armor in the LOTRO store from now until October 4th.
These items are not actual armor, just cosmetic versions of these sets to allow you to get the look.
Pieces sell for 295 Turbine Points each or 1,295 Turbine Points for a full set (6 pieces) which ends up to be around a 27% discount. There is a set available for each class but you don't have to stick to your specific class when purchasing.
I think it's probably also good to note that you can earn this gear in game should you and your friends venture into the Helegrod dungeons and they are available for purchase from Skirmish vendors.
See all photos of the gear set on the LOTRO announcement.
Weekly Sale

Monster Classes

Blackarrow
Fire massive and deadly arrow types from range!
Defiler
Heal Evil forces or disable Free Peoples with deadly plagues!
Stalker
Strike stealthily, silently, and suddenly!
Warleader
Rally your troops, heal your allies, and absorb incoming damage!
Weaver
Use poisons and webs to manipulate and control prey!

Store Location: Account → Classes
Levels: 10+

795
597
CSTM RECOMMENDATION: Extra classes add diversity to game play and so picking up a new class or two while on sale seems like a good idea to me. If one of the other monster classes had you wondering, this may be the time to try it out!
---

Monster Traits
Enhance your abilities and stats with traits from the LOTRO Store. Then visit your Monster Class bard to slot your new traits.
• All monster classes can update class and racial traits in the store.
• Customize your character for how you play!

Store Location: Character → Monster Play → Class Traits
Levels: 10+

195-595
147-447
CSTM RECOMMENDATION: I don't regularly play a monster class but I'm told the ranking up of a monster to get the traits is time consuming. This allows you to buy the traits you need to survive and even conqueror those nasty free peoples without the wait. You can earn these in game but the time saved in earning will most likely pay off in a much more enjoyable moors experience from the start.
---

Monster Skills
Upgrade your skills to do more damage, protect your raid group, control more targets, and cause more carnage!
• Upon purchase, skills are immediately usable.
• Get access to better traits, faster!

Store Location: Character → Monster Play → Class Skills
Levels: 10+

395-595
297-447
CSTM RECOMMENDATION: Similar to the monster traits, the ability to buy the skills for ranks that hare higher and will take you some serious time to achieve will only benefit the monster. LOTRO Fanatik wrote to us last monster sale that "Buying the most useful and powerful skills/traits for Ranks you might never see otherwise, is a great alternative to grinding out the millions (yes MILLIONS!) of infamy that's needed for those high ranks."
---

Milestone Skills
Set multiple instant-travel destinations! Unlock an additional destination skill to bind at Milestones. 5 additions available! Milestones, or "homes", are locations that you can instantly travel to from anywhere in the world. Players can bind to one destination at a time for free, and purchasing additional Milestone Skills allows players to access more than one destination at a moment's notice!

Store Location: Travel & Housing → Maps & Skills → Milestone Skills
Levels: All

350
263
CSTM RECOMMENDATION: Typically I hear that folks like to have at least two. One for where they are questing and one for where they craft. Any more needed beyond that will be something special for your needs. These are per character and they share a cooldown so don't expect to be zipping around like a hunter if you buy these.
---

Hurried Traveler
Reduce the recovery time (cool-downs) on Milestone Skills by 30 minutes to use instant-travel more often! Works across all Milestone skills! This is a permanent unlock for your character.

Store Location: Travel & Housing → Travel Traits
Levels: All

495
372
CSTM RECOMMENDATION: It gets a meh only because it depends on your play style (how much you use milestones or if you're a hunter/warden) how useful this is. The only bummer for this item is that is it only per character so make sure you buy it on the character you want to have this skill!