I purchased Botanicula as part of a Humble Bundle. The same Humble Bundle that I got Thomas Was Alone, actually. I knew absolutely nothing about this game when I got it. I have finished a play through of the game and thought I would share some thoughts.
My first reaction to this was "Woah, what is going on?"
It was like walking into someone's crazy dream world and not understanding any of the rules. I think the first 20 minutes or so I had a look on my face that was a weird mixture of confusion and charmed whimsy. The game is cute. Weird but cute. Maybe weird is too harsh. I mean the good kind of weird. Ok moving on.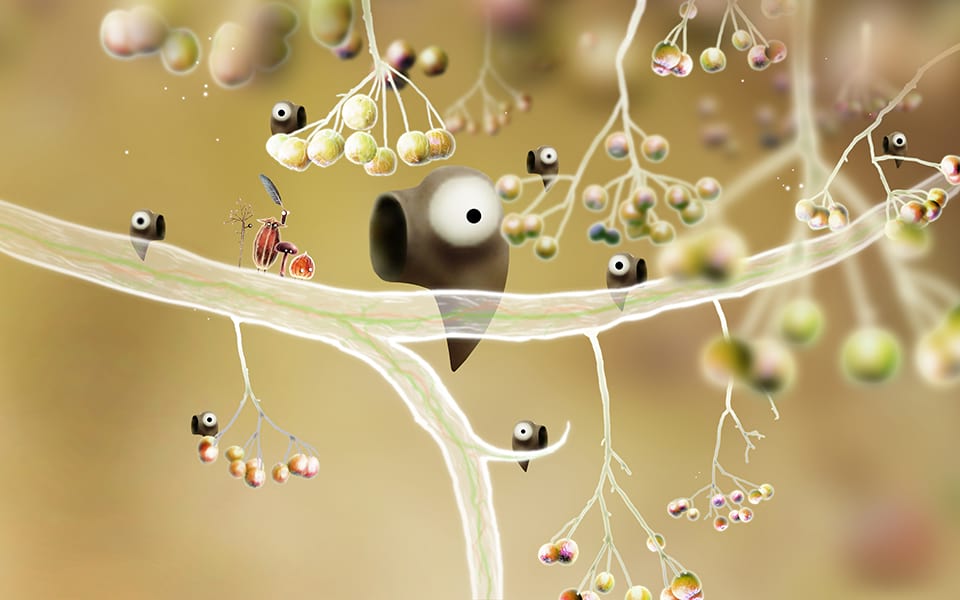 You play as a band of five tree creatures who's tree is being eaten by evil black puff-ball things. I think they're probably some sort of tree virus or parasite but I'm going to just continue calling them "evil puff-balls". You have to safely find a way to plant the last tree seed before the evil puff-balls take over!
This is an explorer game where you are just brought into a space and can sort of click around. Some clickies help you advance, some just activate some random animation and there is also an achievement type game to find and collect the cards of all the little odd tree creatures.
There is no narration to speak of although there are some story telling creatures that show what they are describing in picture form while they make odd noises. I totally understand why a developer would want to not put in narration. Picture stories make it more portable across languages. You don't have to be fluent in any language to play this game.
You travel helping other tree creatures and avoid evil puff-balls. A lot of it is puzzle solving and some areas where you can't progress until you bring a little tree dude something they want. Sometimes you have to go hunting and the puzzle solution is linked with some other area in some way that at first is not obvious.
The characters were pretty adorable but I in no way felt a real bond with them. Every so often one would prove themselves handy and so I was happy to have the variety available but I never really felt any emotional attachment to any of them.
A lot of my progression was thanks to my love of trying to find things to click on on the screen and then later being able to piece it together with what I had found. However, this did not help me the entire way. One puzzle I sat smacking my head on for a while when Baby Hobbit walked up and told me "jump here and here and here and then you'll be over"… and I'll be darn if she wasn't right. I'll also admit that there was one part that I was so incredibly lost I had to go look up a walk through to help me figure out what my goal even was.
This is not a long game. I finished it in under four hours and in that time got 68% of the achievements. Of course you could argue that it could have taken me longer if I hadn't looked up a walkthrough. Fair enough. I also may have never finished the game due to being stuck forever in a location that confused the dookie outta me.
I'd also like to give a little shout out to the music in the game. It was just as quirky and charming as the rest of the game. It fit perfectly.
Botanicula is a cute game. It was pretty perfect to pop in for a few minutes, solve a puzzle and then go on doing what you need to. I actually think it would be great as a mobile game. It was certainly a huge break from games I typically play!
> Botanicula on Steam: $9.99 USD
> Developer Web Site: Amanita Design